During a Celebrity interview with Central Music Awards 2019 Best Presenter Nominee, Amansan Krakye, of Radio Central fame in Cape coast, Nacee the Legendary Producer and award-winning Gospel artiste, Nana Osei said that it wasn't prudent for a church to build a prison facility. He said this after The Church of Pentecost declared to the general public that they were going to build an ultramodern prison facility for Nsawam.
He said" In my candid opinion, it's wrong for a church to build a prison in Ghana. Instead, I will suggest that the church should build factories and create jobs for its members and other people to get a gainful source of employment. In addition to the jobs, the church should teach, interlace it with good and practical Christian doctrines to help their members stay away from social vices which may lead them into prison."
"I can tell you that some of the people who end up in prison might be due to joblessness but some of our churches rather invest the monies they get from the contribution of members in ventures that do not inure to members benefit."He concluded.
The church later commissioned and handed over to the Prisons Service a multi-purpose prison facility that was funded and constructed. It was a fully furnished three-dormitory block with the capacity to accommodate 300 inmates which also comprises an administration block, a chapel which will also serve as a classroom, football pitch, baptistry, modern washrooms, mechanized borehole, offices, infirmary, workshops, and other auxiliary facilities. It was jointly commissioned by the interior minister, Ambrose Dery; the chairman of the Church of Pentecost, Apostle Eric Nyamekye, and the Chief of Ejura, Barima Osei Hwedi II.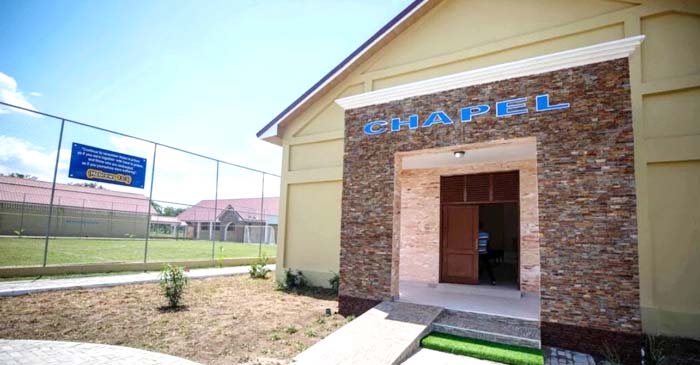 Lately, twenty-eight inmates of the recently commissioned Ejura Camp Prison have surrendered their lives to Christ.  Of this figure, twenty-seven of them have undergone water baptism to the glory of God.
This remarkable event took place on Sunday, October 10, 2021, when the Mampong Area Head of The Church of Pentecost, Pastor Samuel Kwabena Asare, together with his wife, Beatrice, joined the prison inmates for church service as part of his working visit to the facility.
After the service, the inmates pleaded with the pastorate to pay regular visits to the facility to share fellowship with them. They also requested Bibles and other provisions to aid their spiritual and physical development.
As part of the service, ten inmates were appointed to serve in various leadership positions of the non-denominational church in the Camp prison. Also, prayers were offered for the 12 inmates who are due for release this month.