source: BBC News
Leaked documents reveal how Africa's richest woman made her fortune through exploiting her own country, and corruption.
Isabel dos Santos got access to lucrative deals involving land, oil, diamonds and telecoms when her father was president of Angola, a southern African country rich in natural resources.
The documents show how she and her husband were allowed to buy valuable state assets in a series of suspicious deals.
Ms Dos Santos says the allegations against her are entirely false and that there is a politically motivated witch-hunt by the Angolan government.
The former president's daughter has made the UK her home and owns expensive properties in central London.
She is already under criminal investigation by the authorities in Angola for corruption and her assets in the country have been frozen.
Now BBC Panorama has been given access to more than 700,000 leaked documents about the billionaire's business empire.
Most were obtained by the Platform to Protect Whistle-blowers in Africa and shared with the International Consortium of Investigative Journalists (ICIJ).
They've been investigated by 37 media organisations including the Guardian and Portugal's Expresso newspaper.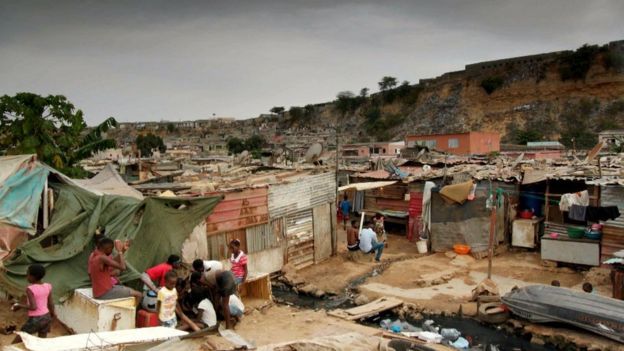 Andrew Feinstein, the head of Corruption Watch, says the documents show how Ms Dos Santos exploited her country at the expense of ordinary Angolans.
"Every time she appears on the cover of some glossy magazine somewhere in the world, every time that she hosts one of her glamorous parties in the south of France, she is doing so by trampling on the aspirations of the citizens of Angola."
The ICIJ have called the documents the Luanda Leaks.
The oil connection
One of the most suspicious deals was run from London through a UK subsidiary of the Angolan state oil company Sonangol.
Ms Dos Santos had been put in charge of the struggling Sonangol in 2016, thanks to a presidential decree from her father Jose Eduardo dos Santos, who kept a tight grip on his country for the 38 years he was in power.
But when he retired as president in September 2017 her position was soon under threat, even though his hand-picked successor came from the same party. Ms Dos Santos was sacked two months later.
Many Angolans have been surprised at the way that President João Lourenço has gone after the business interests of his predecessor's family.